NILE VALLEY MAP:
SafariEgypt has acquired a huge collection of Maps that will be displayed starting Jan 2007. The new collection will include all destinations, cities and tourist attractions referenced in this website. We are now showing maps for the main cities of Egypt.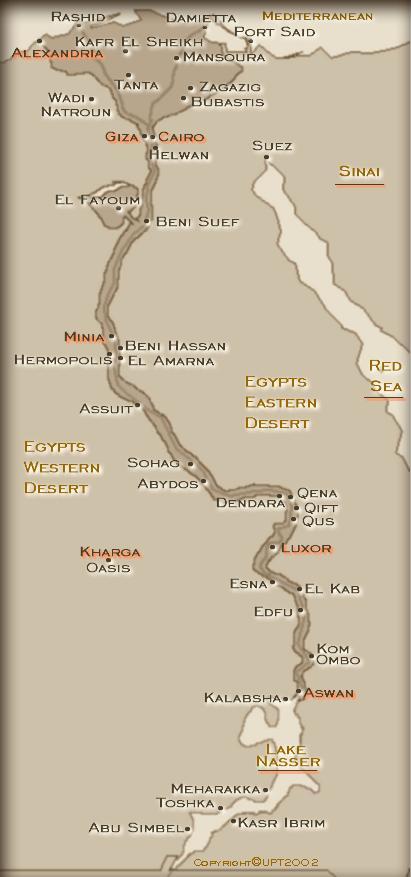 Distances : km / mi
Cairo to Minia : 252 / 157
Cairo to Abydos : 489 / 304
Cairo to Luxor : 679 / 422
Cairo to Edfu : 818 / 490
Cairo to Aswan : 926 / 556
Cairo to Abu Simbel : 1235 / 768

Top Destinations in the Nile Valley:

Cairo,
El Qahera or Cairo is locally often called "The Big Mango" and is said to have everything - only problem is to find it... The city was born one thousand year ago between the ancient metropolis of Memphis on the west bank and the legendary On or Heliopolis on the east bank.
Mena House Oboeroi Hotel *****
Royal Meridien & Cairo Meridien *****
Cairo Marriott Hotel *****
Golden Tulip Flamenco Hotel ****
Indiana Hotel ***
Victoria Hotel ***


El Minia,
Minia is a very special place in "middle Egypt", and have in her areas the important Middle Kingdom tombs of Beni Hassan and the legendary capital of EchnAton: Tell El Amarna.
Mercure Nefertiti & Aton Hotel ****

Luxor,
Luxor City is located on the East bank of the Nile, and here nearly all hotels are found together with the temples of Karnak and Luxor. On the west bank, Valley of the Kings, Hatshepsut, Medinet Habu the Nobles and much more. A thumb rule is to use 2/3 of your time for visits on the west bank and 1/3 on the East.
Old Winter Palace *****
New Winter Palace *****
Luxor Sheraton Resort *****
Mercure Corolia Hotel ****
TuTotel Hotel ***

Aswan,
Aswan, the border between ancient Egypt and ancient Nubia. The ancient town was located on the Island Elephantine and was called Abu ("elephant"), and the temple constructions here date back to pre historic times (more than five thousand years ago).
Old Cataract Hotel *****

Nile Cruises,
Nile Cruises must be one of the best combination of culture and leisure, here where they go on the Nile between Luxor and Aswan - including visits to major monuments.
Oberoi Philae Nile Cruise *****
Oberoi Shehrazad Nile Cruise *****
Oberoi Shehrayar Nile Cruise *****
Sonesta Nile Goddess Cruise *****

Lake Nasser Cruises,
South of Aswan lies the new High Dam that created the huge Lake Nasser, and the temples here have been nearly unreachable for visitors (apart from Philae and Abu Simbel) up to the first ship on Lake Nasser - "Eugenie" was built.
Eugenie Cruise *****
Kasr Ibrim Cruise *****

Copyrighted by SafariEgypt.com
All rights reserved!
All maps, graphics and original descriptions created by SafariEgypt.com, unless otherwise noted and/or directly linked to the source, and use of same for any application whatsoever (with the exception of outline maps) requires written permission.

We make no copyright claim on any statistical data on this page, nor on any non-original graphics, and/or pictures not produced by us. Certain statistical data is gathered from the locally published maps (authorized and authenticated by the ministry of Tourism), Google Earth, Google Maps, CIA World Fact book, as well as numerous public domain reference materials.

Every effort is made to be as accurate as possible when disseminating information on any Egyptian destination. We are not responsible for unintentional data entry errors or omissions. If you would like to submit an addition, change or correction, or suggest a new link, please forward it to our map department (maps@safariegypt.com) and we will give it our immediate attention.