EL GOUNA MAP:
SafariEgypt has acquired a huge collection of Maps that will be displayed starting Jan 2007. The new collection will include all destinations, cities and tourist attractions referenced in this website. We are now showing maps for the main cities of Egypt.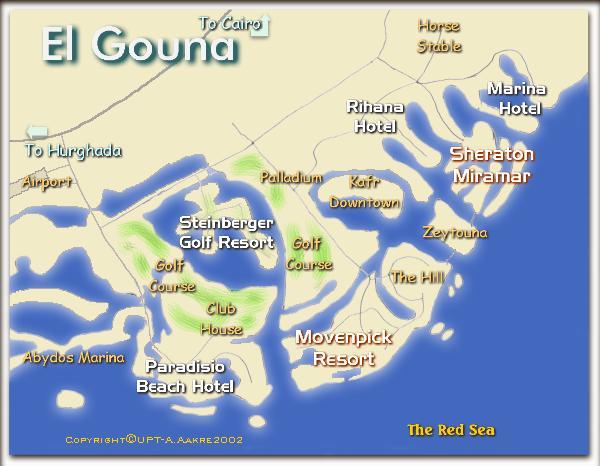 On the Red Sea shore, 20 km north of Hurghada there is a lagoon beach area called El Gouna. Not a big city - just over ten hotels, still some of these hotels represent the peak among resorts by the Red Sea.
El Gouna may not be as well known as Sharm El Sheikh and Hurghada. For those who's been here, its their small and "secret" paradise - the Red Sea destination for the discerning traveler. El Gouna is more than a resort - its town centre is Kafr El Gouna, located on an island and built in Egyptian style with endless alleys. A small but active town with shops, cafes, restaurants, bars, discotheques, cinema, art galleries, school, museum and aquarium. If you need a bigger city for a day or evening tour, then Hurghada is just 20 km south of El Gouna.
For activities you will find Yalla Horse Stable which also got ponies for children. Professional Tennis and Squash courts - and of course sand volley ball on the beach. Egypt's first professional Go-Cart Center. Health Clubs, Wind surfing, boat trips, fishing, waterskiing, wakeboard, glass bottom boat, canoe, catamaran, 18 hole golf course and the Golf Clubhouse with the 19th hole bar - snorkeling and diving of course. The crystal clear Red Sea with its coral reefs, colourful fish life, diving - and then the relaxation on the beach and on a lagoon. Go from hotel to hotel, from restaurant to restaurant - or from bar to bar.
The original open air theatre El Arena became "Palladium" in December 2001 - a top end and trendy large capacity discotheque with a full club experience. In downtown El Gouna you find among others; Tayabeen Cafe (Egyptian coffeeshop with shisha), Ferrari Club (Italian Cuisine), La Tabasco (International Cuisine), Old Germany (German and International Cuisine), The Club House (International Cuisine), Sand Bar (American and Mexican Cuisine), Tamr Hena (Oriental bar and International Snacks), Halikarnas (Turkish and International Cuisine) - and add to this over fifty different bars and restaurants around at the hotels and the marina's. With car it's only three and a half hours drive to Luxor with her monuments by the Nile (via Safaga) and about five hours drive to Cairo and the grand pyramids (via Suez). There is an important international airport in Hurghada and a small airport in El Gouna - but most traveling to Egypt with regular flight come here via Cairo.
Many tours goes from El Gouna and inside the mountain area of the Eastern Desert where mines back to Pharaonic times are found. On the way to Cairo is the legendary monasteries of St. Antonius and St. Macarius. St. Antonius (251 - 356 B.C) is considered the founder of monasticism in Christianity, so roots back to his cave north of Hurghada is strong in the Western world. A "key word" here can be the painting "The Temptation of Saint Anthony" by the truly unique artist Jheronimus Bosch (1480-1510).
In short, El Gouna is for those who want a small but active place to stay - and those who feel that even Sharm El Sheikh are too dominated by charter tourism. El Gouna is not only a place to go to, it's the place you come back to...

Copyrighted by SafariEgypt.com
All rights reserved!
All maps, graphics and original descriptions created by SafariEgypt.com, unless otherwise noted and/or directly linked to the source, and use of same for any application whatsoever (with the exception of outline maps) requires written permission.

We make no copyright claim on any statistical data on this page, nor on any non-original graphics, and/or pictures not produced by us. Certain statistical data is gathered from the locally published maps (authorized and authenticated by the ministry of Tourism), Google Earth, Google Maps, CIA World Fact book, as well as numerous public domain reference materials.

Every effort is made to be as accurate as possible when disseminating information on any Egyptian destination. We are not responsible for unintentional data entry errors or omissions. If you would like to submit an addition, change or correction, or suggest a new link, please forward it to our map department (maps@safariegypt.com) and we will give it our immediate attention.