Sinai: A Region Traversing Time:
Sinai is a region of both religious and historic significance, as much of its charm consists of unexpected glimpses into its rugged interior; capable of narrating early stories of the three merciful religions dawned on humanity. Historically, Sinai was treasured for its turquoise, gold and copper quarries during Pharaonic times and today ruins resting in its endless desert tale its vast expanseís ancient wealth and worth. Nevertheless, today Sinaiís coast is swept away by a flow of bustling crowds visiting to appreciate the areaís holy mountainous interior, white sandy beaches and engaging nature. The peninsula is an ideal holiday destination for both individuals and families, as it combines mountains and sea, making it awe inspiring in offering matchless diversity and endless tranquility.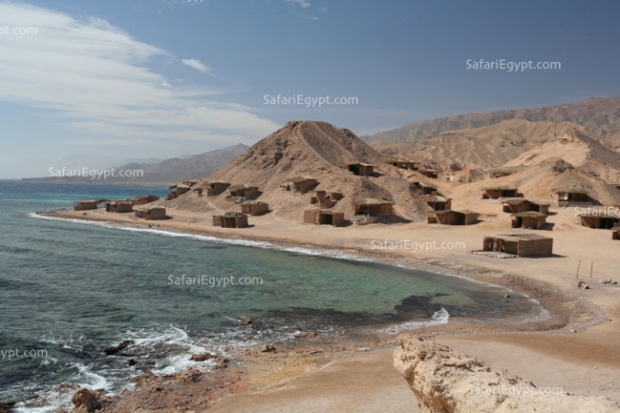 If there is any problem with a trip to SinaiÖ it is the embarrassment of the riches that face you!
Its sapphire clear waters offer scuba diving lovers a once in a lifetime chance to connect with an exceptional marine life, renowned for being one of the best in the world. Moreover, its ever-growing string of tourist resorts stretching from Nuweiba to Sharm El Sheikh satisfies sea lovers. Hurghada on the Western Red Sea coast links visitors to ancient monasteries, which create interesting desert excursions for adventurous travelers. Its gold sand dunes and canyons satisfy nature lovers, and adventurous travelers who seek an adrenalin rush through sand boarding and climbing soaring mountains. The several natural protectorates it embraces reflect the virginity of its nature manifested in a unique flora and fauna life. Last, but not least the emergence of simple towns like Nabq and Dahab offer visitors the chance to escape the commercial nature of many tourist destinations, allowing them to simply escape to swim with dolphins and gaze at a sky lit by magnificent stars. Renown for being a tourist magnet and a crucial pillar in supporting the Egyptian economy, Sinaiís coastal roads are being renewed, lodging facilities renovated and security tightened as part of the Egyptian governmentís plan to sustain tourism in the area.
All you need is to pack your bags, head to Sinai and be sure that you will realize the perfect holiday picture you painted in your mind in the vast peninsulaís diversity! Sinaiís religious significance: Godís artistic exhibition

Visitors cannot escape the captivating picturesque scene of Sinaiís mountain peaks embracing the gold sun. Such a soothing scene reflects a magnificent exhibition of Almighty power at its finest. The mountains that strike travelers are known as ďMount SinaiĒ; a collection of peaks often referred to locally as El Tur or Mount Moses. It is here on the biblical peak, where God talked to Moses stating the Ten Commandments for man to lead a balanced and refined life. It is also the same site, where Prophet Mohamedís horse ascended to heaven, hence creating of the mountain a significant Islamic site. Climbing 3,750 steps leads to the Seven Elders of Israel again making Mount Moses a sacred Jewish site. The exquisiteness of the mountain lies in the fact that three monotheistic religions coexist in this very one place chosen by God to draw pilgrims of different religions to come together in harmony to appreciate the siteís sacred nature and absolute serenity.